So shiny, so hard to resist  > . <!
I've been collecting charms and man do they burn a hole in your wallet! Not to mention the charms don't fit on all bracelets which sucks if you want to combine them all
This is the one (combo) I usually stick with:

If only I could fit charms from other brands on it. Darn you Michael Hill for making fat bracelets, darn you!!!
My a little geekier look, I love these mario themed charms:

They're bright and colourful which isn't usually my thing, but the charms are too cute to resist.
Finally, I think my favourite beads from all the brands I've purchased from are the troll beads. I love the small to non-existent rim on their glass beads. This one is pink dessert (along with a wing charm):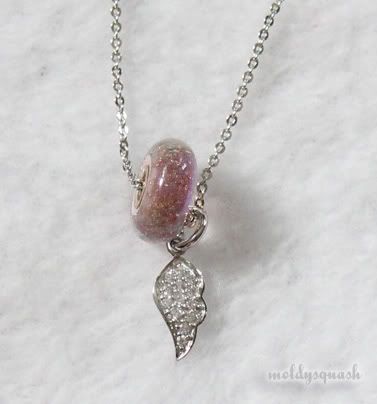 I got this little baby in Vegas, too bad the troll bead counter in one of the Caesar's Palace shops is gone. Where will I get my shinies now? ;___;
~moldysquash ("'¬.¬)v