Sunday, June 10th, 2012
I've been desperately working on updating my shop but it's a long and tedious process especially now that I am officially part of the workforce :'( I still can't believe I have a real job now, I just can't see myself working for the next 40 years @_@
Anyways, I have taken pictures of all the poop plushies for NinjaPoop.com (collectively run by the group known as BLM – will explain when we finally put up the shop XD) but since I have no design/layout for the site, I'm at a lost at what to do… I did have time to play with some of the merch though, I absolutely love the "Corn Dookie" headband: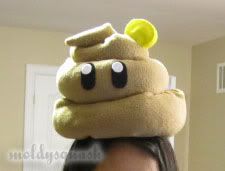 As for my own shop (lots of new handmade items to come!), I spent hours taking pictures of stuff and this one has to be my hands down favourite:
There's just something about the combination of beads and the colours. I don't even like blue!
Now off to editing pictures… *sigh*
~moldysquash ("'¬.¬)o