Good news all around, school is le completed!!!! No more, EVER AGAIN! muahahahahha
The first batch of random things I ordred while stressing has finally arrived too. I'm going to do a review of a series of online shops that sell materials that can be used in sweets decoden.
First up is JBox! Here's a picture of the stuff I ordered: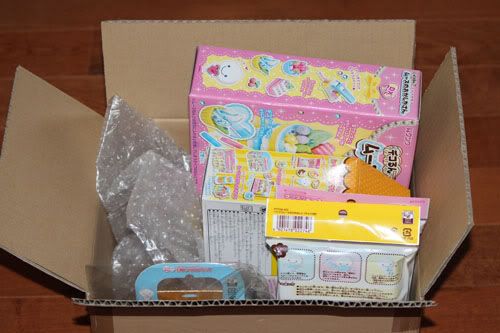 I ordered some clay sets, it came all snuggly fit in a box. The box took some beating but everything inside came in perfect condition. I'm surprised because the clay sets come in somewhat flimsy cardboard boxes but they came in perfect condition with no dents or anything.
Shipping took a while because I chose SAL (yes, I'm cheap plus and I wouldn't have done anything with the stuff while I was cramming for exams anyways). So order early if you want to save money! I ordered March 23rd, it shipped on March 26th and arrived on April 13th. Which isn't as bad as I imagined for SAL.
Overall, I'm happy, I was just surprised that there was nothing but the items I ordered in the box. Not even a bill or a business card. I will probably order again, need to use my points I earned from this order (there's a customer loyalty program in place).
Time to de-dust my room so I can start deco-ing!
~moldysquash ("'¬.¬)o